Bastille Day- Sponsored by Simply Crepes
Saturday, July 14th, 2018 12 pm to 4 pm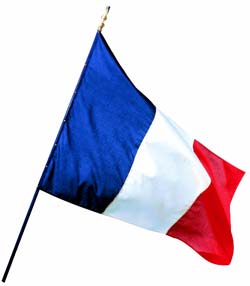 In France, and for French people around the world, July 14 is celebrated as Bastille Day, the beginning of a revolution that freed the citizens from a tyrannical government. In the late 1700s, the Bastille was used as a state prison, holding mostly political dissidents. On July 14, 1789, a crowd stormed the Bastille and released seven prisoners.
This historic event is commemorated every year with parades, fireworks, and the invoking of the words of the French Revolution: Liberté, égalité, fraternité – freedom, equality, and brotherhood!
Join Simply Crepes and Lafayette Village Saturday, July 14th, 2018 for a celebration of French liberty and culture. From 12 pm to 4 pm, enjoy French-inspired music from Tea Cup Gin, food and fun throughout the Village. Watch aerial demos or try it yourself in a low simple hammock style aerial.  Be sure to participate in a hands-on creation of paper cockades in French colors to take away and wear as you celebrate Bastille Day.  We will have French themed face paintings and giant bubble makers too! Also be on the look out for princesses and super heroes from Enchanted Wishes as well as a collection of Parisians a la Versailles and French Colonials that will be roaming the village. Visit our many shops and restaurants for French-themed promotions, food and drinks.
Don't forget to make a donation to Camp High H
opes a have a chance to spin your own crepe as Simply Crepes attempts to beat the world record for the world's tallest crepe stack!
When school lets out for the summer, low-income students lose two months of reading achievement while middle-income students progress by one month. At the Y, we believe every child deserves the resources to achieve. That's why we provide year-round academic support.
ACHIEVE
Marietta and Haddy are the best examples of the cumulative effects of the YMCA. They met in elementary school, but cemented their friendship in YMCA programs. Thanks to donations to the YMCA's Annual Campaign, they were able to participate in Camp High Hopes, Y Learning and Leaders Club – programs that helped them achieve in the classroom and in life.
"The Annual Campaign provides an opportunity for all of us to get on the same level playing field," said Haddy. "Without the campaign, kids like me wouldn't be able to participate."
Today, Marietta and Haddy are college students and YMCA Summer Day Camp Counselors who are determined to be part of the next generation of positive change at the Y.
"I hope the YMCA's Annual Campaign will continue to grow. I hope that many people continue to give and help kids like me," said Marietta.
GIVE
We're celebrating 25 years of building people through the YMCA's Annual Campaign. Help us inspire involvement, bridge critical gaps and create opportunities for all.
100% of every dollar given through the YMCA's Annual Campaign is invested in the lives of people who need the Y. 
More Details to come!